Details

Written by

Ferry Stelte

Category: Performance
Hits: 3809
On the sixth of November 2018 Login VSI introduced the Release of Login PI 3. In this blog I will take you with me during my exploration of this new version of Login PI.
Version 3 of Login PI is been designed and built from scratch. The need for a windows server to run the application on is gone. Login PI 3 is based on an appliance. To be able to run the appliance you will need ESX 5.5, 6.0 or 6.5. To setup and configure the appliance you will need to download the OVA template from the LoginVSI website.
The appliance needs:
Details

Written by

Ferry Stelte

Category: Netscaler
Hits: 9097
Recenlty I have been involved at a customer where we deployed a new NetScaler pair with the latest and greatest firmware version. We ran into an issue with certificates. In this blog I will talk about the issues we ran into and how you can solve them.
When running NetScaler firmware 12.1.48.13 and you want to install a PFX certificate there is a possibility that you receive the following error (No certificates present in the certificate bundle file):
If you do succeed to install the PFX on NetScaler you might get an error whilst binding the certificate to a vServer:
Certificate is not server certificate
These errors seem to be a bug in the GUI of NetScaler. You can solve this by doing the following:
Upload the certificate file to /nsconfig/ssl

SSH into NetScaler and run: add ssl certkey <name_of_certificate> -cert /nsconfig/ssl/<Name_of_pfx> -key /nsconfig/ssl/ <name_of_pfx) -password <enteryourpasswordhere>

After running this on the CLI you are able to bind your certificate to vServers again.
Hope this helps you in adding certificates to your NetScaler again!
<UPDATED: 24-07-2018 - Changed command to add ssl certkey due to recent comments, my bad, I think it was a typo! </UPDATED>
Write comment (14 Comments)
Details

Written by

Ferry Stelte

Category: UEM
Hits: 3181
While I was working on a side project I found the need to have some kind of logging while using my Spoof User Profile program. I did some code editing and now the new version of the Spoof User Profile program uses logging when switching the state key(s).
The path of logging is made configurable, in two ways:
By using a environment variable SPOOF:

By using a parameter /LOC=<path to logging>
The /LOC takes precedence over the evironment variable.
You can download the program from the Download Section. Download the program there and leave me a comment with your ideas about the program!
Write comment (0 Comments)
Details

Written by

Ferry Stelte

Category: Netscaler
Hits: 5237
In a previous blog I wrote about adding a footer to the NetScaler gateway. Since that post Citrix included the RfWebUI theme
Citrix has posted a support article how to add a footer to this theme.
Specifically from that article the following piece of code is extracted
add rewrite action rw_act_insert_loginfooter_2 insert_after_all "HTTP.RES.BODY(120000).SET_TEXT_MODE(IGNORECASE)" q{"(\"<div style='text-align:center;color:white;font-size:15px;'>Experiencing technical difficulties?<br>Open the"+" <a style='color:white;text-decoration:underline' href='http://citrix.com'>Citrix Guide</a> or Report an issue to the"+" <a style='color:white;text-decoration:underline' href='mailto:This email address is being protected from spambots. You need JavaScript enabled to view it.'>Citrix Support</a>team</div>\")"} -search "text(\"customAuthBottom\")"
add rewrite policy rw_pol_insert_loginfooter_2 "HTTP.REQ.URL.CONTAINS(\"/LogonPoint/index.html\")" rw_act_insert_loginfooter_2
Sticking to that code you will end up with the following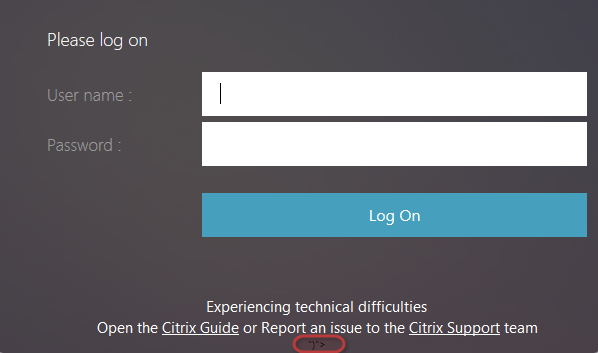 Actually the lines from the article of Citrix should be changed, whereas
<a style='color:white;text-decoration:underline' href='mailto:This email address is being protected from spambots. You need JavaScript enabled to view it.'>Citrix Support</a>team</div>\")"}  is used it should be:
<a style='color:white;text-decoration:underline' href='mailto:This email address is being protected from spambots. You need JavaScript enabled to view it.'>Citrix Support</a> team</div\")"
When that is applied there will be no text visible that is not wanted or accounted for.
You will end up with this: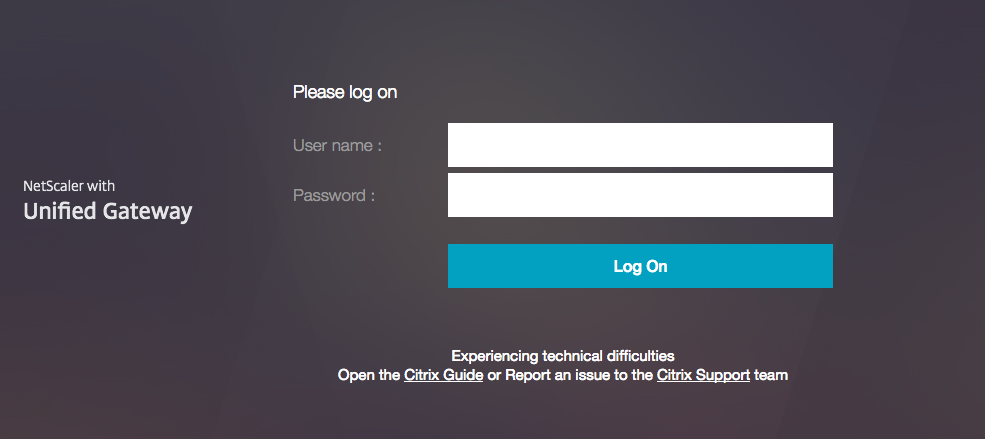 For every theme it is possible to add a footer to the login box. Which makes the need for manually customizing the portal theme less relevant and thus makes customizing the NetScaler portal more sustainable. That is a good thing if you ask me.
Write comment (0 Comments)
RSS