In the previous part of this serie of blogs I wrote resource sharing. Also discussed the different kind of technologies, in this article I want to go into the load test I have performed at the customer.
All tests are performed with the officeworker workload, 150 sessions, 60 second launch interval.
The following test are performed:
Baseline office worker (DFSS/RES WM on (default))
DFSS on RES WM off
DFSS off RES WM on (default)
DFSS off RES WM on (85%)
DFSS off RES WM off
Below is a chart that represents the test results in % relative to the first (baseline) test.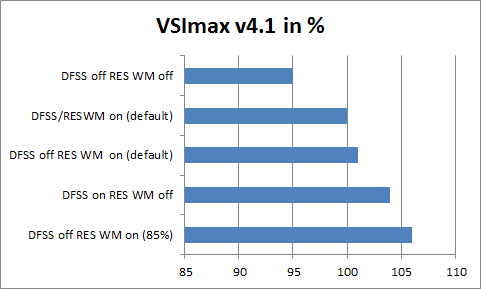 The chart shows that disabling DFSS and RES WM CPU Optimization results in a degraded user experience. The best combination in this situation is disabling DFSS and setting RES WM CPU optimization to start working at 85% cpu usage.
The questions raised in the previous article were:
Do we need RES Workspace Manager CPU optimisation on top of Dynamic Fair Share Scheduling?
Which technique should we use? (RES or MS?)
Do we even need resource sharing in this modern age?
To answer those questions:
No we don't. In my tests the best combination is DFSS disabled and RES WM CPU optimization enabled at 85%. I would recommend to test in your specific configuration (with LoginVSI ;) ), but you could use this as a point of departure.
See the answer above, I believe it should be RES WM especially because it does log the events and that way you manage your user environment from within one tool.
Yes we still do need resource sharing in this modern age. Hardware has made a real big leap in the last couple of years, but the software is still behind in those developments (look at how many multi-threaded applications there are, or how many x64 applications).
I hope you enjoyed this series of posts. I at least have enjoyed working out this series and hope you can take you advantage from this postings. Please feel free to leave a comment below or discuss my methods/results.